Welcome to AgeCalc!
Meet AgeCalc, the tool that will help you to really know your aged stuff in Priston Tale!
Using it (from age to clean)
It's easy to make it work, we will take the item below as an example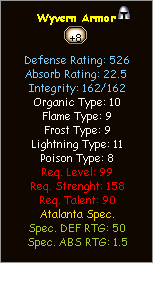 1st step
- click the type of equipment that is the item [in this case, defense]
- on the list, find the item you are looking for the initial attributes [in this case, Wyvern Armor]
- then click on
Next Step
2nd step
- fill in the requested attributes [in this case, defense and absorption]
- choose the age level that the item is
- then click on
Finish
3rd step
Now you may see the attributes of this item when it was clean:
(Attribute: original value [difference from perfect clean])
Defense: 360 [-20]
Absorption: 18.5 [-0.1]
important: if sometime in the aging process one armor lose level, it will also lose defense, so it may not be correctly calculated.
Using it (from clean to age)
It's the same process of age to clean, the only change is that the attributes you choose are the initials (the clean attributes) and the selected age is the final age.
You may request that the perfect attributes of the selected item be pasted in their respective fields by clicking the "perf." next to the text box.